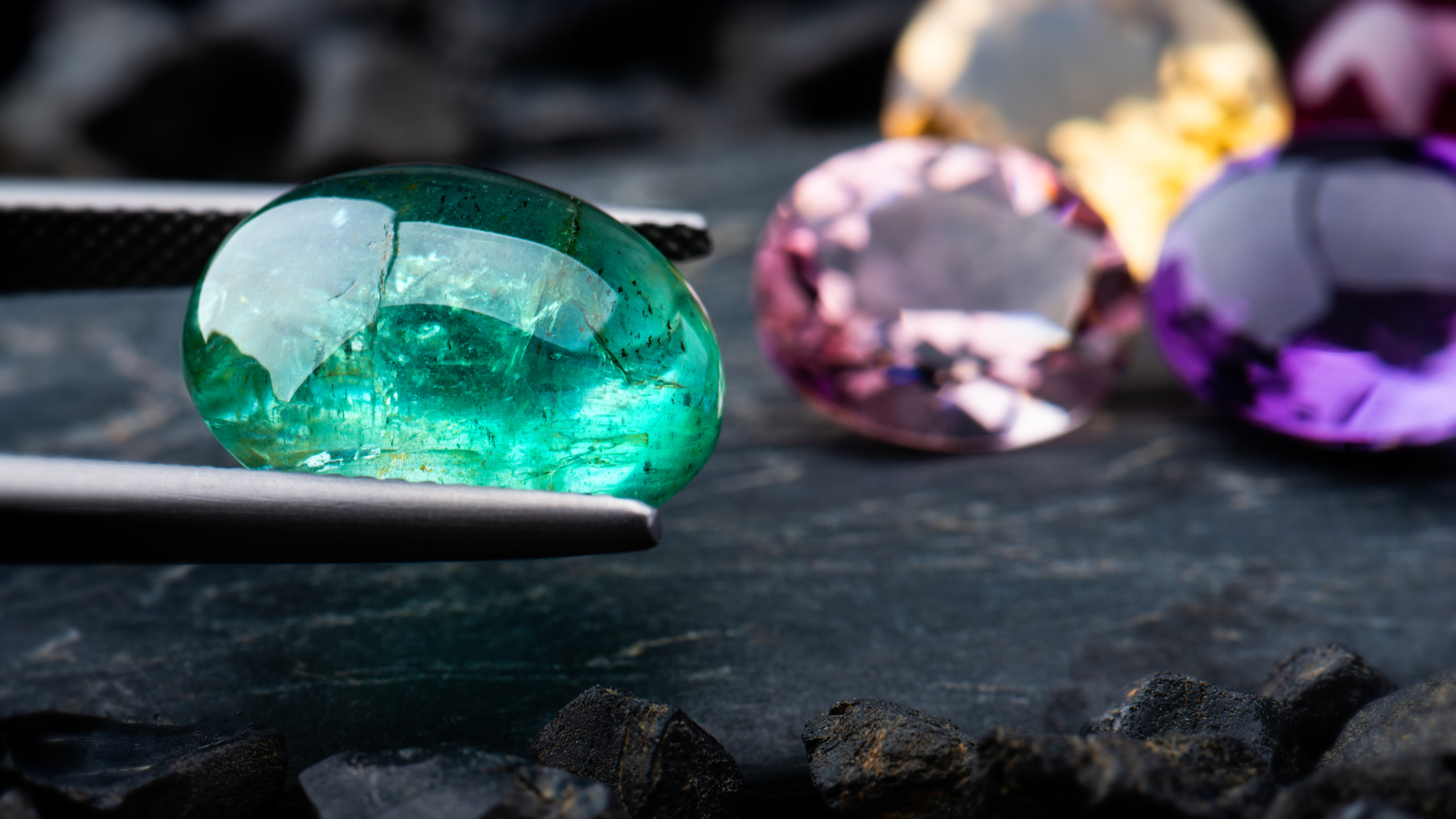 Education
How To Clean Gemstone Jewelry
Our team is passionate about not just providing an extensive collection of fine jewelry but also educating our clients on how to properly care for their cherished pieces. Today, we want to share our guide on how to clean gemstone jewelry to keep your pieces sparkling for years to come.
Understand Your Gemstone
Whether you've inherited a diamond engagement ring or bought yourself a sterling silver chain adorned with sapphires, it's vital to understand your gemstones before you clean them. Different gemstones have varying degrees of hardness and durability and react differently to cleaning methods. 
For example, diamonds, rubies, and sapphires are hard gemstones, while opals and turquoise are considered soft. Organic gemstones such as amber, coral, and pearl require extra care due to their delicate nature.
Gather Cleaning Supplies
Once you know your gemstones, it's time to gather the right cleaning supplies. While commercial jewelry cleaning solutions can be effective, some contain harsh chemicals that could potentially damage your gemstones. A safer alternative is to use mild dish soap and warm (not hot!) water. Additionally, you'll need a soft, lint-free cloth and a soft-bristle toothbrush.
Cleaning Gemstone Jewelry
Cleaning gemstone jewelry requires delicate care. For hard gemstones like diamonds, rubies, and sapphires, gently scrubbing with a soft toothbrush and soapy water should suffice. However, with softer or organic gemstones, it's crucial to avoid scrubbing. Instead, simply dip them in soapy water and gently wipe them clean with a soft cloth.
Drying and Storing Your Gemstone Jewelry
Proper drying and storage of gemstone jewelry are key to maintaining their luster and preventing damage. After cleaning, pat your jewelry dry with a lint-free cloth and let it air dry completely before storing it. When storing, keep each piece individually wrapped in a soft cloth to prevent scratches.
Regular Maintenance of Gemstone Jewelry
Just as regular check-ups can keep us healthy, regular cleaning can preserve the beauty and integrity of your gemstone jewelry. Besides cleaning at home, scheduling routine professional cleanings can help maintain the brilliance of your pieces. 
At Noble House Jewelry, we provide in-house jewelry repair and maintenance services at our locations in Overland Park, Kansas, and Saint Simons Island, Georgia.
When to Consult a Professional
While at-home care is important, there are times when professional cleaning or repair is necessary. If your jewelry has loose stones, or visible damage, or hasn't been cleaned professionally in a while, it's time to contact a professional. Our team at Noble House Jewelry is here to assist with our expertise and in-house repair facilities.
Conclusion
Cleaning your gemstone jewelry doesn't have to be daunting. With the right knowledge and care, your pieces can shine as brightly as they did when you first fell in love with them. We invite you to discover our exceptional collection, explore our unmatched offerings, and experience the Noble House Jewelry difference. 
To book an appointment for professional cleaning or repair services, click here. We look forward to helping you care for your cherished treasures.
Maximum products to compare. Limit is 3!
Maximum products to compare. Limit is 3!